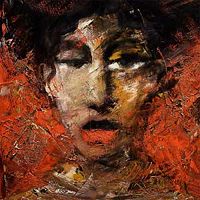 Listen to the tracks  -  Lyrics  -  Album Reviews  -  Music Videos
 "Venus Doom is going to be a lot heavier than anything we've done before – that's the whole idea"…"We wanted to make a really rockin' album – one that would explode your speakers, but we also wanted to maintain the melancholy aspects of love and loss in the lyrics and then have the really sweet vocals amidst this storm of guitars" -  Ville Valo on "Venus Doom" (Ultimate Guitar Magazine)
TRACKS
1.   "Venus Doom" – 5:08
2.   "Love in Cold Blood" – 5:54
3.   "Passion's Killing Floor" – 5:10
4.   "The Kiss of Dawn" – 5:54
5.   "Sleepwalking Past Hope" – 10:02
6.   "Dead Lovers' Lane" – 4:28
7.   "Song or Suicide" – 1:10
8.   "Bleed Well" – 4:24  
9.   "Cyanide Sun" – 5:54
^^^^^^^^^^^^^^^^^^^^^^^^^^^^
Interesting Facts:
·     Venus Doom is the sixth studio album by Finnish rock band HIM, released on September 14, 2007 (Germany, Finland, Sweden and Ireland), September 17, 2007 internationally and September 18, 2007 in the United States.
·     Venus Doom, in it's native Finland peaked at #2. Having debuted in Germany at #3 and #12 in the US . It made #31 in the UK.
·     At the 50th annual Grammy Awards, Matt Taylor and Ville Valo, for HIM, were nominated for "Best Boxed/Special Limited Edition packaging" for Venus Doom.
·     The cover art was painted by artist David Harouni. Ville Valo purchased one of Harouni's paintings at New Orleans' Harouni Gallery and later asked Harouni if it could be used as the cover.
·     The album was produced by Tim Palmer and Hiili Hiilesmaa.
·     Venus Doom has both the longest and shortest running tracks to date; the longest being "Sleepwalking Past Hope" (10:03), and the shortest one, the acoustic "Song or Suicide" (1:10).
·     The first single released was "Kiss of Dawn"
·     Ville Valo has stated that the song "The Kiss of Dawn" was for a "close friend who committed suicide soon after the band wrapped the recording sessions for Dark Light.
·     The second single released was "Bleed Well"
·     The song "Passion's Killing Floor" is featured on the Transformers soundtrack.