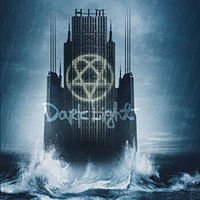 Dark Light is HIM's 5th full length studio album. Released on September 26 2005, this is the first Finnish album to sell gold in the United States.
The album charted at #18 in both the US and the UK, having reached #4 in Germany.
The first single released was Wings of a Butterfly and the second was Killing Loneliness.
For those who have enjoyed HIM's unique, raw sound, and Ville Valo's distinct vocals, this album has been described  by some as being more "polished" , leaving a few long-time fans slightly disappointed, but the albums potential for a broader appeal is certainly noteworthy and Dark Light is yet another great HIM album.
TRACKS:
1.     "Vampire Heart" – 4:45
2.     "Wings of a Butterfly" – 3:29
3.     "Under the Rose" – 4:49
4.     "Killing Loneliness" – 4:29
5.     "Dark Light" – 4:30
6.     "Behind the Crimson Door" – 4:34
7.     "The Face of God" – 4:34
8.     "Drunk on Shadows" – 3:49
9.     "Play Dead" – 4:36
10.  "In the Nightside of Eden" – 5:39
11.  "Venus (In Our Blood)" – 4:35 *
12.  "The Cage" – 4:29*
13.  "Poison Heart" – 3:46 (The Ramones cover)*
* included in special editions