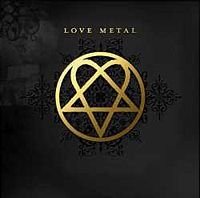 "Harder than titanium, softer than pure gold, quicker than silver. Red hot or cold as steel. Love Metal."
Three albums into their career, with healthy combined sales of 2 million, HIM felt it was the right time to define a couple of things. Define HIM ­ the band. Define the music, already commonly known as love metal. And, last but not least, figure out the deeper meanings behind the mighty Heartagram!
You hold the results in your hands, in the compact form of "Love Metal". One and a half years worth of exploration and soul searching, as well as the time-honoured tradition of 'working one's ass off', has gone into these ten songs.
"There we were. Gas a hopeless Slayer addict and Burton completely hooked on Tchaikovsky. Mige getting high on Brian Eno and Linde tripping on Jimi Hendrix on a regular basis. Me, I was curing my hangovers with shots of Johnny Cash and Roy Orbison."
The 'me' being Valo, vocals and songs. Gas on drums, Burton on keyboards, Mige on bass, Linde on guitar. Collectively they are known as HIM.
"We had no idea where it would lead us in the end. Whether it would turn out to be silly psychedelic music or the meanest motherfucker of metal known to man," Valo grins. "But it felt really good. We just incorporated all the elements that came naturally and took it from there. With pretty mediocre success, of course…"
That last tongue-in-cheek shot reveals that Valo & co. are content ­ in fact they are immensely proud of their fourth album. Just listen to that new kind of urgency that's so evident on songs like "Buried Alive by Love" and "Soul on Fire"! The deep dark groove of "Sweet Pandemonium"! The sheer spiritual qualities of "The Sacrament" and "Circle of Fear". The innocent beauty of "The Funeral of Hearts". The purgatory that is the epic finale, "The Path". Consider love metal defined… (view full article)
TRACKS:

1."Buried Alive By Love" – 5:01
2."The Funeral of Hearts" – 4:30
3."Beyond Redemption" – 4:28
4."Sweet Pandemonium" – 5:46
5."Soul On Fire" – 4:00
6."The Sacrament" – 4:32
7."This Fortress of Tears" – 5:47
8."Circle of Fear" – 5:27
9."Endless Dark" – 5:35
10."The Path" – 7:44
11."Love's Requiem" * – 8:36
* – Only available on the Digipack version